Hosting, domains and maintenance
At Bitmap Company we are worried pages and applications that we have developed throughout their lifecycle by offering a full maintenance which includes hosting, domain purchase and technical support to have all the guarantees that your website will be active. Let us all and technical details and forget about problems with full maintenance. We have also created BitmapHost, a hosting and domain registration service adapted to or clients and to independent developers with database service and CPanel.
Request your free quote!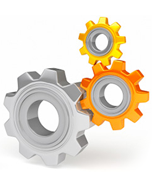 Read more
In Bitmap Company we take care of the pages and applications that we have developed throughout all their life cycle offering comprehensive maintenance that includes hosting, the buying of domains and support so that you have all the guarantees of that your website is operating properly. Let us all technical aspects and do not worry about maintenance tasks. We have also created BitmapHost, a hosting and domain registration service intended for independent developers with knowledge of databases and hosting management panels who wish to host their own projects on our servers.
We have our own servers to ensure full availability of your projects, we offer various plans of both maintenance and hosting for our customers so they can host their projects safely, leaving us all possible steps. Our servers provide maximum availability guarantee to prevent falls, errors and any other problems resulting from poor management.
- Full maintenance plans with managed hostig.
- Hosting on shared servers and domain registration.
- Dedicated servers for projects requiring higher performance.
- Connectivity services stability time to 99% and supervision for 24 hours and 365 days a year.
- Technical support via email, phone or chat.
National and international domain registration.
Email with your domain name and webmail service.
Integration with the services and the interface of Google Apps to get its full benefits.
Guarantee high availability to prevent downtimes, errors and any other problem.
CPanel, Secure Shell, SSL, FTP, CGI, Ruby (RoR), Perl, PHP, MySQL...
Our CPD is strategically located in Provo, Utah (USA) to provide the best service.
We can manage your hosting account or your dedicated server for largue projects.
Forget about technical tasks and focus on the content.
Our warranty service and technical support by phone, email or chat.