Marketing and technology consulting
Sometimes it is not enough to have a good art design or the ultimate technology, being necessary to target certain project objectives both in the field of marketing and within your company. We position your project in search engines, create custom advertising campaigns, improve your image on social media or offer you a community manager to generate constant activity on the network. We offer qualified personnel in various areas related to the promotion and web communication who can audit the performance of your project to try to improve their results.
YOUR TEXT HERE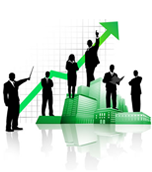 Read more
Promote your project, invest in internet wisely and let us guide your strategy to success with our help.
Search engine optimization (SEO): We position your web page or application at the top of the most used search engines (Google, Bing, Yahoo! etc.). We manage your budget to help you get results in the shortest possible time and achieve long-term stability. We have approved personnel by Google who can manage pay per click campaigns like Google AdWords for you or campaigns on social networks like Facebook. Our programming team can also help you to optimize your page for the natural positioning of it.
Social Media Marketing: Creating blogs into the domain of your project, the popularity in social networks, the presence in media channels like YouTube, the consistency in updating the contents or the way of organizing them into your website are elements that can position your website in a natural way. If you do not have time for content creation, you can hire a community manager at Bitmap Company for your disposal so that you can have active and constant presence on the net at a reduced cost.
- SEO (search engine optimization).
- Management of advertising campaigns on search engines and social networks.
- Hire the services of a community manager to generate constant activity on the network.
- Technology consulting: We study your case, we shape your business and seek solutions.
- New methods for saling and contacting potential customers, immediate feedback.
Gain positions in Google, Bing, etc.. to achieve a significant increase in visitors to your website.
We give advise and perform an analysis of your competition to define a strategy to follow.
Microsites, social networks, blogs and social media are usually very helpful.
We manage your AdWords campaigns to make them more efficient and we presnet reports each month.
You decide the ammount daily limit you would like to spend for each campaign.
We analyze your products or services to get the right keywords.
Full transparency with our customers through own control panel.
Our staff will manage the activity of your business in blogs and social networks.
You decide the weekly dedication time for a tailored quote.
Generate activity on the net for a constant feedback from your customers.